Welcome to a detailed walk through the specifications and use of the Rakettenpanzerbüchse 54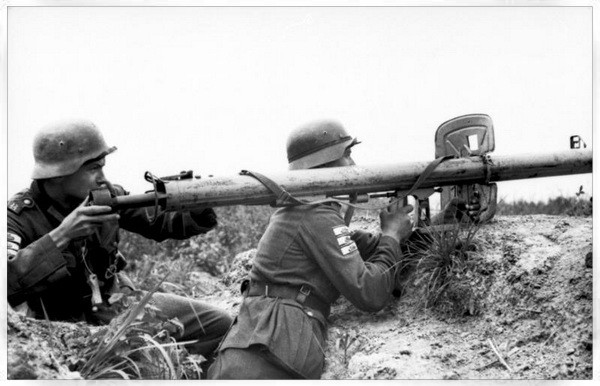 Northern Russia August 1944. A early Raketenpanzerbüchse 54 with added protective shield during loading.

Note that according to correct loading procedure the weapon has been cocked, and the safety has been applied. Also of interest is the ignition wire of the rocket with the wooden connector dovel hanging in front of the loaders chest. As with most combat pictures of the Panzerschreck this one is also staged.



My intention with this article is once again to go down in details about a little discussed topic. It started up as a one-pager, but I soon discovered that I had to divide it up into several sections and pages to be able to cover all aspects of the weapon. I also discovered that there are a lot of "urban myths" and wrong information about the Panzerschreck in circulation. When applicable I have made a point out of it in the text. Once again thanks to good help from my friend Vidar Andresen in Norway.




| | |
| --- | --- |
| | The history and development |
| | The launcher tube |
| | The shield |
| | The sights |
| | The firing system |
| | Markings, makers, paint & numbers |
| | The ammunition |
| | The manuals |
| | Training aids and training |
| | Practical use |
| | Transport |
| | The RPzB 54/1 |
| | Foreign use |
| | Post war use |
| | Panzerschreck pictures |